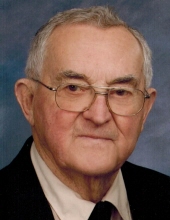 Obituary for Matt John Kralovetz
Matt J. Kralovetz age of 100, of rural Denmark, passed away surrounded by his loving family on Wednesday, May 30, 2018. He achieved his "wish" of surviving to be as old as his father was (upon his death). Matt achieved this on March 16th, 2012, at the age of 94 years and 85 days of age. Matt was born on December 22, 1917, to the late Joseph P. and Anna (Forst) Kralovetz. He served in the U.S. Army in Japan for 18 months, post-World War II, from September 26, 1946, until March 18, 1948, (8002nd Hvy Frm Div.) as a Master Gardener, to feed the troops. Matt married Dorothy Bonfigt in May of 1949; she passed in 1968. He then married Rose Forst Schweiner in April of 1971; she passed in 2009.
He was a dairy farmer on the Homestead family farm in the Town of Franklin, in Kewaunee County. Matt was employed by Benecke Cheese Factory as a milk hauler through 1975. Matt was then employed by the Krohn's Cheese Factory until his retirement. Matt had a love for horses and a skilled interest in making little wooden crafts; playing cards; gardening; and helping with church grounds work. He has been a lifelong member of and is the eldest member of the St. Lawrence Catholic Parish. He continued to pray in his Bohemian/Czech language. He had attended the weekly parish mass services, as well as being a parish Usher, until later years. He is a member of the parish Holy Name Society, The Catholic Order of Foresters St. Lawrence Court, WFLA, and The Denmark VFW Post #6705.
Matt is survived by his eleven stepchildren; Arthur (Sandra) Schweiner, Arlene (Vincent) Vogel, Dorothy (Tom) Konop, Mary Ann (Gary) Szydel, Carol (Dennis) Bradley, David (Joyce) Schweiner, Francis "Butch" (Laurie) Schweiner, Daniel (Sharon) Schweiner, Julie (Darrel) Szydel, JoAnn (Dennis) Selner, and Jerry (Bonnie) Schweiner; 33 step grandchildren and 39 (plus) step great-grandchildren; sister-in-law, Elaine (Joseph) Kralovetz; nieces, nephews, other relatives and friends
Matt was preceded in death by his second wife, Rose(Forst Schweiner) Kralovetz; his first wife, Dorothy (Bonfigt) Kralovetz; his parents, Joseph and Anna (Forst) Kralovetz; his siblings, Edward (Anna) Kralovetz, Joseph Kralovetz, Katie (John) Armstrong, Stella (Milton)Schwartz, and sisters, Ann and Margaret who died in their teens; nephews, Robert Kralovetz and John Armstrong; stepsons, Jakie and Dennis Schweiner; stepgrandson, Todd Konop; stepgranddaughter-in-law, Deneen Schweiner; God-parents, Matt (Catherine) Cisler; as well as other relatives and friends.
Family and friends may visit at Cotter Funeral Home-Denmark Chapel, 536 County Rd R, Denmark, (TODAY)Friday, June 1, 2018 from 4:00pm until 7:00pm. A parish prayer service will be at 7:00pm. Visitation will continue Saturday, June 2, at St. Lawrence Church (N2085 Hwy AB, in Stangelville) 9:30am until 10:45am. Mass of Christian Burial will be celebrated at 11:00am with Fr. Dennis Drury officiating. Matt will be buried in the St. Lawrence Catholic Cemetery. Online condolences may be expressed at www.cotterfuneralhome.com.
Thank you to Christina and the staff and many friends at Scandinavian Court of Denmark, Fr. Dennis and Chrystal for all their prayers and visits, and Southern Care Hospice.
Previous Events
Visitation
Knutson-Cotter Funeral Home
536 County Road R
Denmark, WI 54208
7:00PM Parish Prayer Service
Visitation
St. Therese Catholic Church-St. Lawrence site
N2085 County Road AB
Denmark, WI 54208
Service
St. Therese Catholic Church-St. Lawrence site
N2085 County Road AB
Denmark, WI 54208
Cemetery Details
Location
St. Lawrence Cemetery
N2085 Hwy. AB
Denmark, WI 54208